Press & Praise for The TaSH Farmers Market
Holiday Market Happening… Saturday, December 1
The Hudson Independent (November 2018)
In con­junc­tion with Tar­ry­town's tree light­ing event, TaSH's ex­panded hol­i­day mar­ket will be held from 2 to 5:30 on De­cem­ber 1st, with the tree light­ing cer­e­mony tak­ing place at ap­prox­i­mately 5 p.m…
As American as Apple Pie…
The Hudson Independent (November 2018)
…And, while we are on the sub­ject of pies, don't for­get to en­ter TaSH's Thanks­giv­ing Dessert Con­test (not just pies!) on Clos­ing Day, No­vem­ber 17th by mak­ing your best Thanks­giv­ing dessert us­ing your fa­vorite farmer's mar­ket sea­sonal in­gre­di­ents.
3 Global Food Vendors You Have to Try at TaSH Farmers' Market
The Journal News (July 9, 2018)
Treat your taste buds to an international vacation with foods such as Russian pickles and radicchio marmalade.
Memorial Day Weekend: 5 Things to Do
The Journal News (May 22, 2018)
Shop BBQ Essentials at a Farmers Market. Kickoff your Memorial Day celebration with a trip to the Tarrytown and Sleepy Hollow Farmers Market (The TaSH), which opens for the season, Saturday. Enjoy live music, free kids activities, and dozens of vendors...
Food recalls have more shoppers considering local farmers markets
The Journal News (May 23, 2018)
"Can I trust that your romaine lettuce is safe?" That's what Camilla Chiappari asked farmer-owner Joni Wengerd at the White Plains Farmers Market on Wednesday. It's the million dollar question on the minds of many Hudson Valley residents...
Tarrytown and Sleepy Hollow Farmers Market (The TaSH) Kicks Off Fourth Season Memorial Day Weekend
NY Metro Parents (May 18, 2018)
Tarrytown and Sleepy Hollow Farmers Market (The TaSH) is opening for a fourth season Memorial Day Weekend. This season the market will welcome expanded variety of vendors, more global flavors, launch of "TaSH Cash," and the debut of "TaSH to Table", a meal planning service...
The TaSH Brings Global Flavors to Farmers Market
The Hudson Independent (May 2018)
As the out­door farm­ers mar­ket sea­son kicks into gear this month, or­ga­niz­ers of the Tar­ry­town and Sleepy Hol­low Farm­ers Mar­ket — The TaSH — aren't rest­ing on past lau­rels. Sin­gled out by lo­cal me­dia as the best re­vamped farm­ers mar­ket in the county last year, they are de­ter­mined not only to live up to the praise but far sur­pass it...
Tarrytown / Sleepy Hollow Christmas Tree Lighting Tonight
The Journal News (December 2, 2017)
Patriots Park will host Tarrytown's holiday tree lighting tonight at the second annual TaSH Holiday Pop-Up Market...
Holiday Tree Lighting Plus Pop-Up Farmers Market in Tarrytown
The Patch (December 1, 2017)
More than 20 vendors will be on site, along with musical performance and a visit by Santa Claus...
Help for Needy in Puerto Rico Pursued in Local Communities
The Hudson Independent (November 2017)
Residents of hurricane battered Puerto Rico are benefitting from a large amount of aid provided by our rivertowns...
TaSH Creates a Communal Farm-to-Table Haven
Westchester Magazine - Eat.Drink.Post (July 25, 2017)
Only three years old, the farmers' market located just at the natural boundary between Tarrytown and Sleepy Hollow (hence "TaSH") is doing some pretty ambitious things...
See, Taste, Discover: Tarrytown, Sleepy Hollow Farmers Market Wins Award
Daily Voice (July 6, 2017)
The Tarrytown and Sleepy Hollow (TaSH) Farmers Market, a DVlicious 2016 winner for "Best Farmers Market," was named to Westchester Magazine's "Best of Westchester" list for 2017.
The special recognition was awarded in the category of "Best Revamped Farmers Market" — a nod to the transformation and rise in popularity of the TaSH Farmers Market over the past three years...
"Best of Westchester" 2017
Westchester Magazine (July 2017)
One might think coming up with a fresh group of winners would be difficult after 17 years' worth of annual Best of Westchester issues. Are there enough praiseworthy selections left? In a word, yes...
Westchester Magazine's Guide to Summer Fun
Westchester Magazine (June 2017)
A sure sign of summer is when stands overflowing with ripe produce — and other farm-fresh goodies — take up residence around the county. Here, the cream of the crop of our local farmers' markets...
The TaSH Farmers Market is Back in Season
The Hudson Independent (May 2017)
"What's in season?" may be the most-asked question at the farmers market, but this year that simple query has lofty aims at the Tarrytown and Sleepy Hollow Farmers Market.
Along with growing to more than 30 vendors per week — with a roster of more than 50 vendors, some who will rotate to keep things exciting — The TaSH kicks off with "What's in Season?" or "Cosecha de la temporada?" It's a season-long, interactive art and education project aimed at encouraging children to try new foods and understand where food comes from...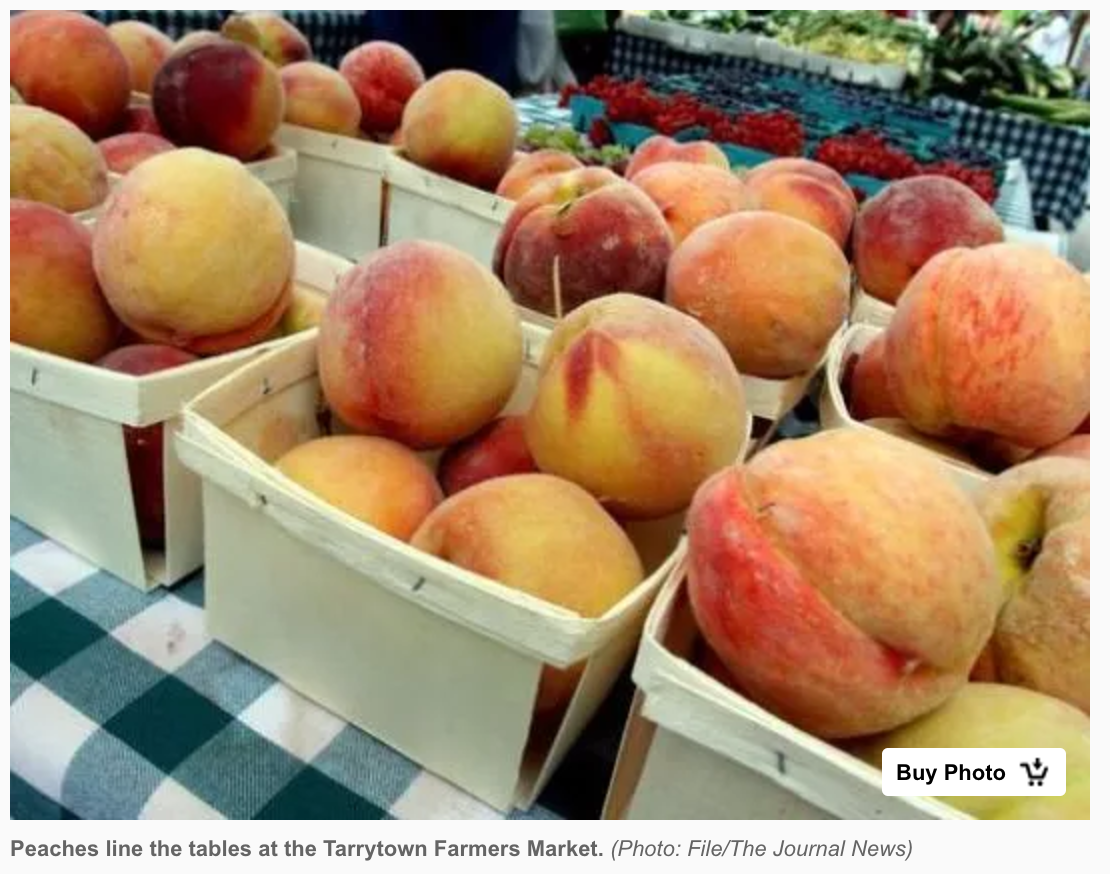 "Farmers Markets Open Outdoors Earlier in the Season"
The Journal News (April 17, 2017)
"Purple crocus may be timidly poking their heads above soil, but the bright white tents of outdoor farmers markets are already on full display in some areas of the Hudson Valley.
This year, farmers markets in Westchester and Rockland are popping outside earlier than ever — April showers and lingering low temps, be darned. (See list of 30+ farmers markets below)..."
"5 things to eat in August"
LoHud via The Journal News (August 2016)
"Deb Taft, who owns Mobius Farm in Katonah, sells gorgeous varieties, including Flying Saucer, Y Star, Sunburst and Bennings Green Tint. She loves "grilling or roasting whole, especially with while grilled or roasted cipollini onions which, conveniently, I also have!" she says. "The texture is so fine and creamy that any treatment is going to yield something yummy. A simple sauté of chunks — again, with cipollinis — is fantastic." Mobius Fields is at the TaSH (Tarrytown-Sleepy Hollow) market..."
"Tarrytown-Sleepy Hollow Farmers Market Is DVlicious Winner"
"Part of what makes TaSH special -- aside from its array of rotating vendors, live music and special events -- is the passion behind the community that rallied to make it a reality."
"Tarrytown-Sleepy Hollow Farmers Market Increases In Size For New Season" via Daily Voice
"The Tarrytown and Sleepy Hollow Farmers Market will open for its second season with more vendors, expanded educational activities, and improved access for low-income shoppers on May 28."
"Farmer 'TaSH Talk' Opens Tarrytown-Sleepy Hollow Farmers Market Season 2" via Daily Voice
"Topics discussed included weather and soil conditions, shoppers' willingness to expand purchase preferences, sustainability practices and myriad factors that impact how farmers price their food."
"Food for Thought – Local Farmers Markets Opening Soon" via The Hudson Independent
"Community organizations such as Open Door Family Medical Centers, Family Services of Westchester and the Community Food Pantry of Sleepy Hollow and Tarrytown are helping the TaSH inform shoppers who use WIC and SNAP benefits that they can use them at the market."
"TaSH Market Rouses Sleepy Hollow" via Westchester Magazine
"Festival tents pop open and vendor tables unfurl seemingly out of nowhere every Saturday within Patriots Park, a four-acre swath of green with monuments, a playground, a stream running through it, a high school across the street, and a library within shouting distance. This patch of verdant land straddles the border of Tarrytown and Sleepy Hollow, two tight-knit communities that share a zip code"